Humble Beginnings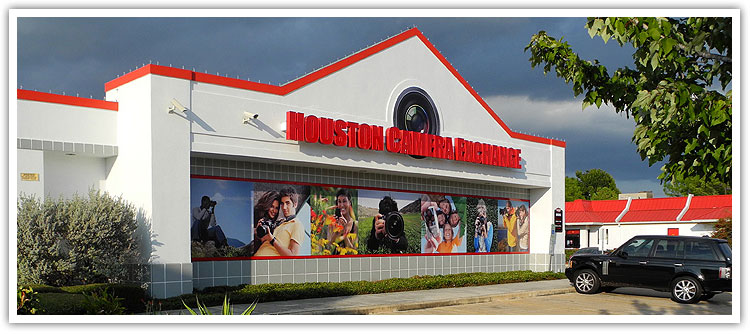 Houston Camera Exchange originated in Austin, Texas in 1972 as a photographic equipment service which was originally located within Capital Camera in Dobie Mall, and later within P.S. Photo in Houston, Texas. In 1976, both locations were moved to independent locations.
Sales of new and used photo equipment were added to the existing services in the 1980′s, and this became the primary focus of HCE. In 1982, the Austin location was closed while the Houston store was relocated and enlarged. In 1987, the Houston store was again enlarged to accommodate our growing needs.
Rapid Growth
Due to the explosive growth we experienced it was decided we needed a larger facility and the current location couldn't accommodate further expansion. Therefore, we began the search for a new location that would fit our requirements. After an exhaustive search, it was determined we were not going to be able to find an available location or building that would suit our needs. So we decided to just "do it ourselves".
In 1995 we purchased land on the bustling Richmond Avenue in Houston, and built our current 7,000 square foot facility. Today this freestanding building at 5900 Richmond Avenue houses all of our new and used equipment, accessories and supplies.
Full Service Photographic Facility
Over the years, HCE has evolved from an "in-store" rental facility to one of Texas' premier photographic resources and the largest photographic facility in the city of Houston. Although we no longer offer rentals, the digital photography market continues to evolve and HCE leads the pack in providing the most choices in digital equipment; including cameras, lenses, studio lighting and backgrounds, audio video, drones and so much more.
HCE has always been committed to providing you with the largest selection of high quality products in both new and used photo equipment and a knowledgeable sales staff to help you with your selections. At HCE, the sales staff has in excess of 200 years combined experience in virtually every photography-related discipline. If there is something you are looking for that you don't find in our store or on our web site, please don't hesitate to contact us. We look forward to helping you in any way we can.
Sincerely,
HCE Management